The first day of the festival didn't mean a lot of concerts for me actually. I saw some of Bare Egil Band, a little bit more of Rival Sons, a little less of Janelle Monaé, a little bit of Suicidal Tendencies and I caught the entire show of Seigmen.
Instead I had a great time meeting people that I don't see everyday and had a lot of fun conversations with like minded people music wise. A great first day, even though the music wasn't the best.
Now I'm sitting here hoping the rain will stop as I'm about to head to the festival area. It's gonna be a great day music wise today starting with Black Tusk in a 25 minutes!
Se you at Fjellet!
Bare Egil Band is playing at Kongescenen, with hits like "Åsgårdsstrand Blues" and "Om Henning Kranes Understell"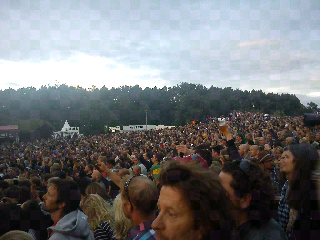 The audience during the Seigmen concert.
Seigmen.